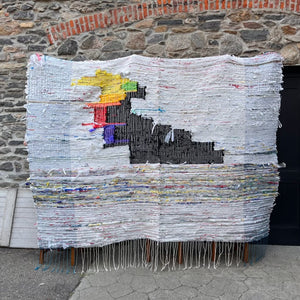 Single-Use Plastic Tapestry
Regular price $8,600.00 Sale
This was made on my 5' Cranbrook loom. It has 700 plastic bags from many large retailers such as CVS, Acme, Arnold's Bread, Scott toilet tissue, and any other scrap plastic I could find. These bags were collected and made into plarn (plastic yarn).
The warp is turquoise on the left and right and cream in the center.  I wove many different bread bags on the base of the tapestry and moved into less color using white and the texture of the bag bottoms to create a moving element on the surface surrounding the color blocked areas. The bottom edges are twisted into fringe. This tapestry is mountable both with a free standing frame that was built for it as well as an option for a french cleat spanning 10' and attached with heavy duty 3" velcro. The latter option sets it away from the wall approximately 2", so it floats in space.
The warp is 100% cotton from Made in America Yarns from our local yarn mill Huntingdon Yarn Mill in North Philadelphia.